Acronis disk director 12.5.163
Najważniejsze funkcje
Manipulowanie
Zarządzaj swoimi danymi gdy dzielisz, konwertujesz, łączysz lub zmieniasz rozmiar woluminów. Twórz, konwertuj i kopiuj pliki oraz woluminy kiedy tylko chcesz.
Partycjonowanie
Twórz partycje szybciej i prościej. W jednym prostym kroku możesz formatować, nadawać etykiety i aktywować partycje, dzięki czemu ograniczasz czas na to poświęcony i ryzyko wystąpienia błędów.
Formatowanie
Wykonuj skomplikowane operacje w sposób prosty i wydajny, dzięki intuicyjnemu interfejsowi użytkownika. Formatuj swój dysk z odpowiednim systemem plików: FAT16, FAT32, NTFS, Ext2, Ext3, Reiser3, Linux, SWAP.
Przywracanie
Odzyskuj woluminy usunięte przez pomyłkę, uszkodzone w wyniku awarii lub zaatakowane przez szkodliwe oprogramowanie – za pomocą jednego prostego w użyciu rozwiązania.
Klonowanie
W ciągu kliku minut migruj wszystkie dane z jednego dysku – od systemu operacyjnego po aplikacje i ustawienia systemowe – na dysk zapasowy. Posiadanie dokładnej repliki dysku pozwala uniknąć wielu problemów, błędów i oszczędza czas.
Instalowanie
Zwiększ moc obliczeniową dzieląc aktualny wolumin na dwa i instalując system operacyjny na drugim z nich, tworząc kolejny wolumin obliczeniowy.
Kernfunktionen
Verändern
Verwalten Sie Ihre Daten, indem Sie Volumes aufteilen, konvertieren, zusammenführen oder in der Größe anpassen. Sie können Dateien und Volumes zudem erstellen, konvertieren und kopieren.
Partitionieren
Erstellen Sie Partitionen (Volumes) noch schneller und einfacher. Formatieren, bezeichnen und aktivieren Sie Volumes in einem einfachen Schritt, bei geringstem Zeitaufwand und Fehlerrisiko.
Formatieren
Die intuitive Benutzeroberfläche macht komplexe Arbeitsprozesse einfach und effizient. Formatieren Sie Ihre Laufwerke mit dem passenden Dateisystem – egal ob FAT16, FAT32, NTFS, Ext2, Ext3, Reiser3 oder Linux SWAP.
Wiederherstellen
Stellen Sie Volumes wieder her, die versehentlich gelöscht, durch einen Hardware-Fehler beschädigt oder von einem Malware-Angriff betroffen wurden – alles mit einer einzigen, anwenderfreundlichen Lösung.
Klonen
Migrieren Sie den gesamten Inhalt einer Festplatte – vom Betriebssystem über dessen Applikationen bis zu den Systemeinstellungen – in wenigen Minuten auf ein Austauschlaufwerk. Diese Aktionen steht für Basis-Laufwerke vom Typ 'MBR' zur Verfügung.
Installieren
Steigern Sie die Performance Ihres Computers, indem Sie ein bestehendes Volume in zwei Teile aufteilen und auf dem zweiten ein weiteres Betriebssystem installieren, um andere Anwendungen separat ausführen zu können.
Principales fonctionnalités
Manipuler
Gérez vos données, que vous fractionniez, redimensionniez, convertissiez ou fusionniez des volumes. Créez, convertissez ou copiez des fichiers et des volumes selon vos besoins.
Partitionner
Restaurez des partitions plus rapidement et facilement. Formatez, nommez et activez vos partitions en une seule étape simple afin de diminuer le temps nécessaire et réduire le risque d'erreur.
Formater
Grâce à une interface utilisateur intuitive, les opérations complexes gagnent en simplicité et en efficacité. Formatez votre lecteur avec le bon système de fichiers, qu'il s'agisse de FAT16, FAT32, NTFS, Ext2, Ext3, Reiser3, Linux ou SWAP.
Restaurer
Restaurez des volumes ayant été accidentellement supprimés, endommagés par une défaillance matérielle ou attaqués par un logiciel malveillant, tout ça grâce à une seule solution simple à utiliser.
Clonage de disque
Remplacez votre ancien disque sans devoir réinstaller ni reconfigurer le système d'exploitation, les applications et les préférences périphériques. Créez facilement une réplique exacte des données d'un disque source vers un disque de destination. Cette opération est disponible pour les disques MBR de base.
Installer
Boostez votre puissance de traitement en divisant un volume existant en deux et en installant un système d'exploitation sur le second afin de créer un autre volume de traitement.
Why Use Disk Imaging Software?
Rather than spending time managing intricate computer backups, disk imaging allows you to quickly and easily make a perfect copy of your computer's hard drive. However, it is important to take the time to find the best hard drive imaging software to meet your needs.
When choosing a Windows or Mac full image backup system it is crucial to make an informed decision on which product is right for you. Finding the best image software that is reliable, versatile and easy-to-use is key. The following criteria can help you evaluate the best hard drive imaging software.
The best drive image software is a complete package that does more than just make a backup copy of your hard drive. Disk image programs should be powerful enough to allow you to customize automated images, use your images to create a boot disk and delete or format a drive.
Backup vs Disk Cloning Software
Okay, so of course I want to protect my data. Isn't that what backup software is for?
Not entirely.
Full-image backup software and file and folder backup software are not the same as disk cloning software, though the reasons for using them may overlap. Here are some good guidelines about when to use each:
Use backup software when you want to:
Back up individual files or folders to the cloud for offsite protection and remote access.
Back up an entire computer periodically. The disk-image backup includes all boot information, applications, settings, and data and stores all of it to a local, external hard drive or the cloud. When data and applications change, the backup software saves these "incremental" changes. Incremental backups take significantly less time than a new backup (or disk image) of an entire source drive. And, it allows you to recover everything that has happened since the hard disk was first set up.
Use cloning software when you want to:
Duplicate the configurations of multiple computers so that each machine is identically set up.
Set up one computer the way you want, clone the hard drive, and then install the clone on each subsequent computer.
If you need to upgrade your computer hardware, simply popping in a cloned disk in the hardware may not work. You'll need to use some operating system setup features to make sure all the latest hardware is supported, or use a backup and recovery tool such as Acronis True Image 2020 with Acronis Universal Restore to support restoration of a disk to a computer with different hardware than the original computer.
Potrzebujesz pomocy?
Często zadawane pytania
Acronis Disk Director 12.5 Home to narzędzie do zarządzania dyskami i partycjami. Udostępnia bogaty i rozbudowany zestaw funkcji — od tworzenia i dzielenia woluminów po klonowanie dysków, przywracanie MBR i naprawę struktury plików/folderów. Szczegółowa lista operacji jest dostępna w oficjalnej dokumentacji Acronis Disk Director 12.5 Home.
Kto potrzebuje Acronis Disk Director 12.5 Home?
Ten produkt przeznaczony jest dla każdego, kto potrzebuje narzędzia do zarządzania dyskami. Niezależnie od tego czy chcesz tylko szybko podzielić swoją partycję nie uszkadzając danych, czy szukasz profesjonalnego narzędzia do naprawy dysku, Acronis Disk Director 12.5 Home ci to wszystko umożliwi.
Co nowego w Acronis Disk Director 12.5 Home?
Obsługa natywnych dysków 4K
Zaktualizowane jądro systemu Linux w nośniku ratunkowym
Obsługa najnowszych wersji Windows ADK dla nośnika WinPE: ADK 1703, 1803, 1809: ADK 1703, 1803, 1809
Jakie języki są dostępne w Acronis Disk Director 12.5 Home?
Angielski
Niemiecki
Rosyjski
Japoński
Francuski 
Włoski
Holenderski
Polski
Czeski
Jak wygląda polityka licencjonowania?
Potrzebujesz jednej licencji Acronis Disk Director 12.5 Home na każdą maszynę/system operacyjny.
Jeżeli posiadasz jeden komputer PC z jednym systemem operacyjnym (co jest najczęstszym przypadkiem), potrzebujesz tylko jednej licencji Acronis Disk Director 12.5 Home. Jeżeli na twojej maszynie jest więcej niż jeden system operacyjny, będziesz potrzebował jednej licencji Acronis Disk Director 12.5 Home na każdy system, dla którego produkt będzie wykorzystywany.
Przykład: Posiadasz maszynę z dwoma systemami operacyjnymi — Windows XP i Windows 7. Potrzebujesz jednej licencji Acronis Disk Director 12.5 Home do korzystania z Windows XP i kolejnej, oddzielnej licencji do korzystania z produktu z Windows 7.
Jeśli utworzysz nośnik ratunkowy Acronis, możesz z niego korzystać tylko na jednej maszynie. Jeżeli zamierzasz korzystać z niego na więcej niż jednej maszynie, będziesz potrzebował oddzielnej licencji na każdy komputer.
Co daje rejestracja Acronis Disk Director 12.5 Home?
Rejestracja kopii programu Acronis Disk Director 12.5 Home na stronie internetowej firmy Acronis przynosi znaczne korzyści, m.in.:
Bezpłatną posprzedażową pomoc techniczną do 30 dni od zakupu. Wsparcie jest dostępne poprzez email i czat 24/7.
Bezpieczne miejsce z informację o twoim numerze seryjnym.
Potwierdzenie legalności oprogramowania, które zostało zakupione i jest wykorzystywane.
Bezpłatne aktualizacje produktu.
Sprawdź artykuły Rejestracja na stronie Acronis i Rejestrowanie produktów na stronie Acronis.
Czy mogę przetestować Acronis Disk Director 12.5 Home przed zakupem?
Oczywiście! Możesz pobrać wersję demo. Wersja demo posiada następujące ograniczenia:
Wszystkie operacje mogą być przeprowadzane na woluminach, których początkowy i wynikowy rozmiar jest nie większy niż 10 GB.
Uruchomić wersję demo Acronis Disk Director 12.5 Home i kliknąć Pomoc → Zmień klucz licencyjny.
Wprowadzić klucz.
Więcej informacji można znaleźć w artykule Acronis Disk Director 12.5 Home: Przejście z demo do pełnej wersji.
Czy Acronis Disk Director 12.5 Home zawiera funkcję OS Selector?
Narzędzie OS Selector, które było częścią poprzednich wersji Acronis Disk Director, zostało usunięte i nie będzie dalej rozwijane. Po zainstalowaniu programu Acronis Disk Director 12.5 Home instancja OS Selectora zostanie nieodwracalnie usunięta.
Czy za pomocą Acronis Disk Director 12.5 Home mogę klonować dyski?
Tak. Za pomocą Acronis Disk Director 12.5 Home możesz klonować podstawowe dyski MBR. Nie można klonować dysków GPT. Zobacz Acronis Disk Director 12.5 Home: Klonowanie dysku.
Czy mogę korzystać z Acronis Disk Director 12.5 Home bez instalowania go?
Tak, możesz. W tym celu, musisz pobrać obraz ISO produktu ze swojego konta na stronie Acronis, , nagrać go na płycie CD/DVD i uruchomić z niej swoją maszynę. Szczegółowe instrukcje można znaleźć w artykule Acronis Disk Director 12.5 Home: Pobieranie nośnika startowego.
Czy za pomocą programu Acronis Disk Director 12.5 Home mogę utworzyć nośnik WinPE?
Tak. Szczegółowe instrukcje można znaleźć w artykule Acronis Disk Director 12.5 Home: Tworzenie nośnika startowego Acronis opartego o WinPE.
Centrum medialne i forum
W razie problemów, materiały na temat produktu można znaleźć w naszej Bazie wiedzy. Koniecznie sprawdź nasze przewodniki wideo i pozostałą dokumentację. Możesz również zadawać pytania na naszym panelu dyskusyjnym.
Table Breakdown
| | |
| --- | --- |
| Windows 10 Compatible | Updated to support the latest Windows 10 operating system |
| UEFI PC Support | Acronis supports computers that use BIOS and UEFI |
| Flexible disk and volume  management | Easy to resize, copy, split or move volumes without data loss or destruction |
| Dynamic Disk Support | Improved functions on dynamic disks which can be spread across multiple disks |
| GPT Disk Support | Compatible with GPT disks bolstering strength against potential data damage |
| Edit Mirrored Volumes | Add, remove, break or add mirrors to make your volume fault-tolerant |
| Place Volume across multiple physical disks | You can combine free space on different HDD's to get larger volumes |
| Convert basic disks and Dynamic Disks | You can convert basic disks to dynamic disks to improve their data storage |
| Convert MBR disks to GPT | You can convert MBR disks to GPT if you to need to make a volume over 2TB |
| Acronis Recovery Expert | With Acronis Recovery Expert you can recover lost or deleted volumes on MBR disks |
| Clone Disks | Clone disks to additional HDD's without reinstalling applications and operating systems |
The Best of Both Worlds: Acronis True Image
Most users require both backup and cloning solutions. Acronis True Image 2020 efficientlyand securely provides continuous data protection while maximizing your computer's performance during backups and minimizing storage space requirements. With Acronis True Image, you have the benefit of disk backup and disk cloning tools, includingflexible scheduling options, incremental imaging backup, the ability to choose what files and programs are backed up, and a host of choices as to where to store your cloned-disk image.
All that and simple to use too. Even computer novices can use the easy-to-follow wizards guide through the set-up process. Once initial set-up is complete, the drive-cloning software runs automatically, eliminating any further time or effort.
Disk-cloning software is the perfect way to protect and manage your precious data. Local and cloud full-image and file-level backup just makes sense. Whether you have one home computer or a small business with multiple computers, Acronis True Image 2020 protects all your data on all your systems with one solution.
도움이 필요하십니까?
자주 묻는 질문
Acronis Disk Director 12.5 Home는 디스크 및 파티션 관리 도구입니다. 볼륨 생성 및 분할, 디스크 복제에서 MBR 복구 및 파일/폴더 구조 복원에 이르기까지 다양하고 정교한 작업이 가능합니다. 자세한 작업 목록은 Acronis Disk Director 12.5 Home의 공식 문서를 확인하십시오.
Acronis Disk Director 12.5 Home는 누가 필요로 합니까?
이 제품은 디스크 관리 도구가 필요한 모든 사람을 위해 제작했습니다. 데이터를 손상시키지 않고 파티션을 빠르게 분할해야 하거나, 손상된 머신을 부팅하여 디스크를 복구할 수 있는 전문 도구가 필요한 경우 Acronis Disk Director 12.5 Home를 사용해 보십시오.
Acronis Disk Director 12.5 Home의 새로운 기능은 무엇입니까?
4K 기본 디스크 지원
부트 가능한 미디어에서 업데이트된 Linux 커널
WinPE 미디어를 위한 최신 Windows ADK 버전 지원: ADK 1703, 1803, 1809
Acronis Disk Director 12.5 Home는 어떤 언어를 지원합니까?
영어
독일어
러시아어
일본어
프랑스어 
이탈리아어
네덜란드어
폴란드어
체코어
라이센스 정책은 어떻습니까?
머신/운영 체제(OS)마다 Acronis Disk Director 12.5 Home 라이센스가 각각 필요합니다.
PC 한 대에서 하나의 OS를 운용하는 경우(일반적인 사례), Acronis Disk Director 12.5 Home의 라이센스 한 개가 필요합니다. 하나의 멀티 부팅 머신에 둘 이상의 운영 체제가 있는 경우 해당 제품을 사용할 각 운영 체제에 Acronis Disk Director 12.5 Home 라이센스가 하나씩 필요합니다.
예: 이중 부팅 머신에 Windows XP와 Windows 7이 있다고 가정해 보겠습니다. Windows XP에서 사용할 Acronis Disk Director 12.5 Home 라이센스가 한 개 필요하고, 이와 별도로 Windows 7에서 사용할 라이센스가 한 개 필요합니다.
Acronis 부트 가능한 미디어를 생성하는 경우 하나의 머신에만 이를 사용할 수 있습니다. 둘 이상의 머신에 사용하고자 하는 경우에는 각 컴퓨터에 별도의 라이센스가 필요합니다.
Acronis Disk Director 12.5 Home를 왜 등록해야 합니까?
Acronis 웹 사이트에서 Acronis Disk Director 12.5 Home를 등록하면 다음과 같은 상당한 혜택이 제공됩니다.
구매 후 30일 동안 판매 후 기술 지원을 무료로 제공합니다. 이메일을 통하여 연중 무휴로 지원을 받을 수 있습니다.
시리얼 번호를 보관하는 안전한 장소를 제공합니다.
구매한 소프트웨어와 사용 권리에 대해서 법적인 확실성을 제공합니다.
무료 제품 업데이트를 제공합니다.
Acronis 웹 사이트 등록 및 웹 사이트에서 Acronis 제품 등록을 참조하십시오.
Acronis Disk Director 12.5 Home를 구매하기 전에 테스트할 수 있습니까?
물론입니다! 데모 버전을 다운로드할 수 있습니다. 데모 버전의 제한 사항은 다음과 같습니다.
모든 작동은 볼륨을 기반으로 수행되지만 초기 및 최종 크기는 10GB 미만이어야 하며, 10GB를 초과하는 크기의 볼륨은 작동할 수 없습니다.
Acronis Disk Director 12.5 Home 데모 버전을 시작하고 도움말 → 라이센스 키 변경을 클릭합니다.
정품 라이센스를 입력합니다.
자세한 지침은 Acronis Disk Director 12.5 Home: 데모 버전에서 정식 버전으로 변경 안내를 참조하십시오.
Acronis Disk Director 12.5 Home에 OS 선택기가 포함되어 있습니까?
과거 Acronis Disk Director 버전의 일부인 OS 선택기 유틸리티는 단종되었습니다. Acronis Disk Director 12.5 Home를 설치하면 OS 선택기 인스턴스는 최종적으로 제거됩니다.
Acronis Disk Director 12.5 Home로 디스크를 복제할 수 있습니까?
예. Acronis Disk Director 12.5 Home를 사용하여 기본 MBR 디스크를 복제할 수 있습니다. GPT 디스크는 복제할 수 없습니다. Acronis Disk Director 12.5 Home: 디스크 복제 설명을 참조하십시오.
Acronis Disk Director 12.5 Home를 설치하지 않고 사용할 수 있습니까?
예. 가능합니다. 이렇게 하려면 Acronis 웹 사이트의 귀하의 계정에서 제품의 ISO 이미지를 다운로드하고 이를 CD/DVD로 구운 후 이를 통해 머신을 부팅해야 합니다. 자세한 지침은 Acronis Disk Director 12.5 Home: 부트 가능한 미디어 다운로드 설명을 참조하십시오.
Acronis Disk Director 12.5 Home로 WinPE 미디어를 생성할 수 있습니까?
예. 자세한 지침은 Acronis Disk Director 12.5 Home : WinPE 기반 Acronis 부트 가능한 미디어 생성 설명을 참조하십시오.
미디어 센터 및 포럼
어려운 사항이 있는 경우에는 Acronis 지식 베이스에서 제품 관련 자료를 찾을 수 있습니다. 비디오 자습서 및 다른 문서도 확인하시기 바랍니다. Acronis 토론 게시판에 질문을 게시해도 좋습니다.
Acronis Feature Breakdown
Acronis Disk Director 12 makes it easy to manipulate and manage your data, with a whole range of tools to help you split, resize, convert and merge volumes together. Volumes can be created and converted as often as needed by the user. The process is relatively simple due to the simple user interface.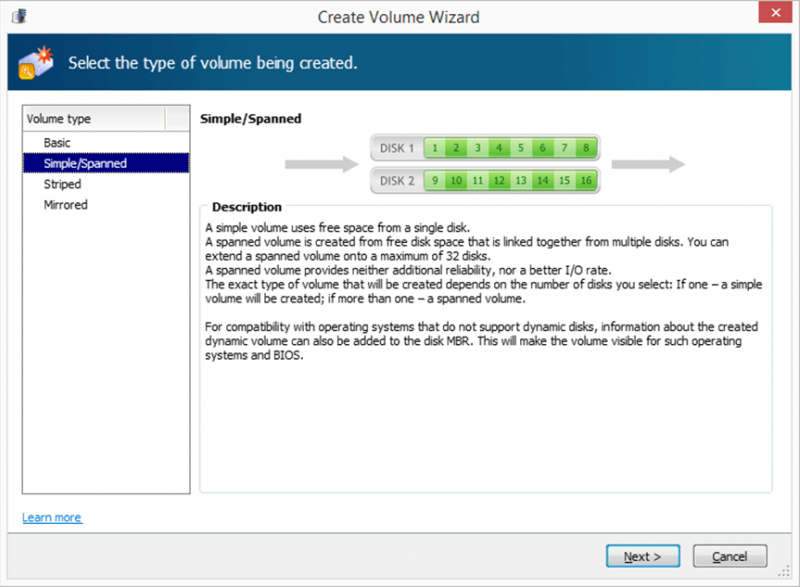 Users can easily select the volume they want to create and are supported each step of the way by a comprehensive description of how the disk space is made and the operating systems it is compatible with. The linear structure of the processing bar makes it clear how much of the project is left to complete.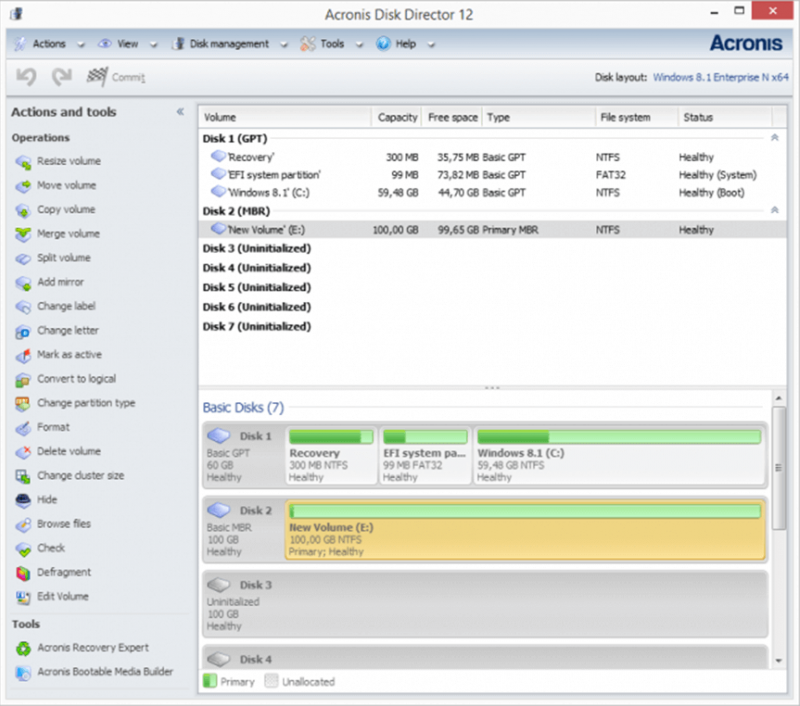 On the main screen, a comprehensive list of controls is kept on the left-hand side. Users can simply select an operation they wish to perform such as "Merge volume», and then track their progress in the central part of the screen. This is particularly handy when mapping hard drives and creating partitions as you'll be able to create more, in much less time with much better oversight. In one burst you can label and format your partitions so that they become active faster.
 
The user interface is more complete than other software packages on the market like MiniTool Partition Wizard. Many programs are capable of resizing, splitting, copying, and merging partitions. While MiniTool can recover lost or deleted partitions, it cannot manipulate dynamic disks the way Acronis Disk Director 12 can. Compared to MiniTool, Acronis Disk Director 12 makes it easy to convert between basic and dynamic disks promptly.
Recovery
For users looking to use Acronis as a recovery tool, Acronis Disk Director 12 is adept at allowing the user to recover volumes that have been damaged, deleted or corrupted. The wizard interface gives users two ways to recover deleted partitions: Automatic Recovery Mode and Manual Recovery Mode. In Automatic recovery mode, users don't have to select any partitions, as the onboard Recovery Expert searches through for deleted partitions and recovers them where they are found.
 
With manual recovery mode, Acronis runs a fast search checking the beginning of each side of every cylinder of every hard disk. Once deleted or lost partitions are found, the user can then select which partitions are to be recovered. This is a great way to ensure that you only recover the data that you need, as opposed to recovering masses of data that you don't.
Disk Cloning
Acronis Disk Director 12 allows users to clone disks to replacement hard drives with speed and efficiency. You can clone your data to a new disk in a matter of minutes. This is good news for users looking for prompt disk cloning facilities, but this comes at a price. Acronis Disk Director 12 is only capable of cloning basic MBR disks. Dynamic and GPT disks can't be cloned, and you can't clone a single position.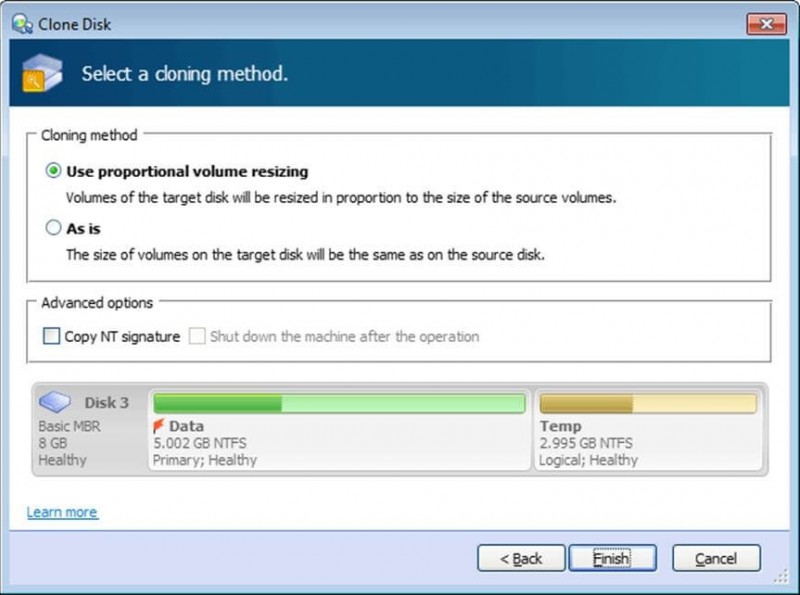 Features
Acronis is a powerful and easy-to-use tool for managing disks and volumes with multiple operating systems. With a comprehensive set of operations, you can organize your hard disk and volume configuration for optimal performance, while keeping your data safe. By using the simple user interface of Acronis Disk Director 12, you can:
Merge, split, move, and resize partitions – You can automatically resize, copy, move and split partitions without altering or losing your current data (even if the file systems are different).
Recover Deleted or Lost Partitions – Recover deleted or lost partitions in the event of any software failure or malicious damage
Format drives — Users can format their drives with a range of file systems, such as FAT16, FAT32, NTFS, Exts, Ext3, Reiser 3, Linux, SWAP
HEX Acronis Disk Editor Recovery Tool – HEX scans through physical sectors of disks to recover your files in the event of a system malfunction or power failure.
Linux Compatible – Acronis stands as a Linux partition manager with full compatibility allowing you to resize partitions with ease.
Backup and restore segments of your hard drive
The Benefits of Cloning Software
When compared to backup software, the biggest benefit of cloning software for most home computer users is that you have a complete image of your computer at a single point in time. For example, you may want to have the "perfect setup" for your family or office, with all applications and settings that you can use again at any time. The data files (such as Microsoft Word documents, photos, and videos) can be on a separate hard drive or volume. This way, all the computers are in sync; they have the same programs and users will have the same experience regardless of which machine they use. But, each computer can hold different data. So, there may be different Word and Excel documents on each computer, but the Word and Excel versions and the user interface — how these programs are accessed — are the same on each computer.
The Best Imaging Software
Acronis True Image 2020 is the best full-image backup software for your Windows and Mac. It is a fast, easy, and complete solution, with the power to let you:
Schedule automatic backup. The disk-image tool creates a differential or incremental image, which captures only the data that has changed since the last backup.
Easily copy, format, partition, and even delete a hard drive image. Image deployment, or putting data back onto your hard drive for later use, is simple as well.
Reinstall the entire system, complete with data, individual files, and applications. Simply execute a few easy image deployment steps.
Open an image at any time by assigning it a drive letter, making it easier to access copied files, folders, and applications.
Back up Windows 10, macOS, or Windows 8.1/8/7 locally and to the cloud.
Back up mobile phones and tablets to your computers and the cloud
In addition to foolproof recovery, Acronis True Image disk imaging software for Windows offers top-notch customer support. They respond within 24 hours with the best disk imaging software advice either online or over the phone. The Acronis Web site also has FAQ pages and online help forums.
What's needed to make a bootable CD or DVD?
To create a bootable disk, you'll need three things:
Your computer must have an optical read/write drive,
A blank DVD or CD that will become your boot disk,
A software utility that will create the boot media. While there are other tools available, we'll be using Acronis Disk Director 12. It is fully certified to work with all Windows operating systems up to and including Windows 10, and can run in the Windows Pre-installation Environment (WinPE). With WinPE-based media you can boot a crashed machine or one without any operating system.
DID YOU KNOW? 
You can also create a Linux-based boot media disk using Acronis Disk Director 12.
You can find instruction on how to do that here.
 
Características esenciales
Manejo de archivos y volúmenes
Gestione sus datos y realice tareas de división, cambio de tamaño, conversión o fusión de volúmenes. Cree, convierta y copie archivos y volúmenes en función de sus necesidades.
Particiones
Cree particiones con mayor rapidez y facilidad. Con un único paso, formatea, etiqueta y activa particiones, reduciendo así el tiempo necesario y la posibilidad de error.
Formato
Realice operaciones complejas de forma fácil y eficiente a través de una interfaz de usuario intuitiva. Podrá formatear su unidad con el sistema de archivos que necesite, independientemente de que sea FAT16, FAT32, NTFS, Ext2, Ext3, Reiser3, Linux o SWAP.
Recuperación
Recupere volúmenes eliminados de forma accidental, dañados por un error de hardware o afectados por un ataque de malware, todo a través de una solución sencilla y fácil de usar.
Clonación de discos
Sustituya su antiguo disco duro sin tener que reinstalar y reconfigurar el sistema operativo, las aplicaciones y las preferencias secundarias. Cree una réplica exacta de los datos del disco de origen en un disco de destino de forma fácil. Esta operación está disponible para discos MBR básicos.
Instalación
Aumente la potencia de procesamiento con la división de un volumen existente en dos y la instalación de un sistema operativo en el segundo para crear otro volumen de procesamiento.
主な機能
操作
ボリュームの分割、サイズ変更、変換、マージ機能によりデータを管理できます。必要に応じて、ファイルとボリュームを作成、変換、コピーします。
パーティション
パーティションをよりスピーディに、簡単に作成できるようになりました。1ステップで手軽にパーティションのフォーマット、ラベル作成、アクティベーションが可能であり、作業時間を短縮し、エラーの発生リスクを低減します。
フォーマット
直感的なユーザーインターフェースで、簡単かつ効率的に複雑な操作を実行できます。FAT16、FAT32、NTFS、Ext2、Ext3、Reiser3、Linux、SWAPなど、どのようなファイルシステムを使用する場合でも、ドライブを正しくフォーマットします。
復元
使用が簡単なシングルソリューションで、誤って削除したり、ハードウェア障害により破損したり、マルウェア攻撃を受けたりしたボリュームを復元できます。
クローンを作成
OSからアプリやシステム設定まで、すべて1台の交換用ディスクに数分で移行できます。この操作はベーシックMBRディスクで行うことができます。
インストール
既存のボリュームを2つに分割してオペレーティングシステムを2番目のボリュームにインストールし、もう一方のボリュームで処理を実施してパフォーマンスを向上させることができます。